We are back from Lyme Regis (which does not suck,
Heather
! – though I agree about the aquarium). We stayed in a big house near the river. Highlights of the week were:
Fossil-hunting on the beach towards Charmouth. Not quite as productive as last year, but P. found a beautiful little pyritised gastropod, plus a brachiopod, and L. spotted a lovely ammonite. Of course we have also hauled home unreasonable amounts of belemnite fragments, lumps of iron pyrites, and assorted stones.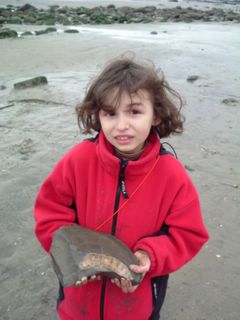 A big find

Dinosaurland museum
– very interesting and friendly. We benefited greatly from their fabby little book on how to find fossils, both this year and last. We popped in later in the week for their free fossil identification clinic.
The Town Mill
. We finally got to see it working this year, saw flour being ground, bought a bag and baked bread and biscuits with it later in the week. The restoration of the mill is a fantastic story – we saw the pictures of the derelict building before they started work on it. Now it's a vibrant place, with a wonderful shop and a pottery and art gallery right next door. All run by volunteers – hugely impressive.
Seaton Tramway
. We saw lots of birds, including buzzards, redshanks and sheldrakes. Everyone enjoyed riding on the top of the tram, and the grownups in particular appreciated Colyton, while the children in particular enjoyed the tramway gift shop.
Cold day at the tramway

Birdwatching

The river Lym. We walked part of the way to Uplyme alongside the idyllic river. Saw butterflies galore (including a comma), and more buzzards.
Romping on the field by the river

Pearl learned to play the card game Cheat this week, and insisted we play it most evenings. This was good fun, and Leo kept us all on our toes by shouting 'cheat' as often as possible. There were five packs of cards in the house, which was enough for the grownups to play fierce games of racing patience in the evenings.
Other bits and bobs this week were:
Pearl got fed up with me reading her
Stig of the Dump
bit by bit at bedtimes and finished it herself, late into the night. I had to borrow it the next day to read the bits I missed. I'd never read it before, and I thought it was great. She also polished off
a book we bought in a charity shop
in a couple of days.
Leo has started spelling out words instead of just saying them, I think to give them more emphasis. He is interested in spelling, and is asking us how to spell things as well as continuing to use his own phonetic spelling in his writing. Especially when the writing is intended for someone else to read, he is writing with a more orthodox word order too, and using more upper case letters, perhaps because they are clearer?
Leo and Pearl both had a budget of 20 pounds spending money for the week, and both managed this very well. Leo astonished us by coming home with 7 pounds left, which he hopes will be enough to buy a mega zord. He really seemed to get the concept of saving money for a future purchase for the first time – just goes to show what an incentive can do!
All our journeys went remarkably smoothly, and we were home in time to watch Doctor Who!